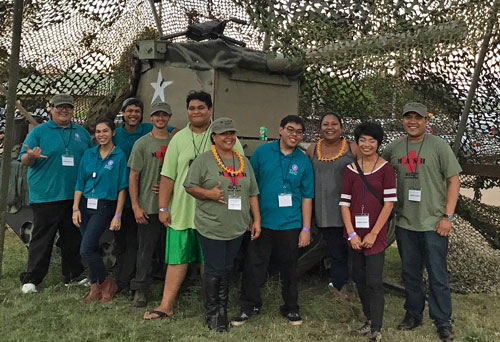 Student Life supports and encourages co-curricular participation through various campus programs, activities and services, thereby heightening a student's total higher educational experience. This learning prepares students for the transition towards independence and self-responsibility as well as to support career and life changes.
Student Life provide opportunities for students to form independent campus clubs to acquire leadership skills, to interact with other people with similar interests, participate in civic, recreational, social and academically related activities.
REGISTRATION AND GRANT FUNDING DIRECTIONS
To comply with Kauai CC Student Services Policy 5-1, all Registered Independent Campus Organizations (RICO) groups must register at the beginning of each academic year with the Student Life Office.  Clubs seeking grant funding from ASUH-KCC SG must complete guidelines in numbers 7-12. New clubs must meet with the Student Life Coordinator.
To register your RICO group, please complete 1-6.
Sign the form - ASUH-KCC SG Registration and Grant Funding Guidelines.
Complete Club Advisor's Commitment Form.
Sign Page 1 of the RICO Club Handbook.
or new clubs, please apply for an Employer Identification Number (EIN) with the Internal Revenue Service at irs.gov and complete a WH-1 form and return copies to the Student Life Office. 
To register your RICO group and apply for grant funding, complete 1-12.
Complete the RICO Funding Proposal Form that explains the intended use of the funds requested.
Submit club minutes that clearly indicate under New Business the following statement:

a. "The Name of Club has unanimously agreed to submit a club grant proposal to ASUH-KCC Student Government in the amount of $400 (maximum) to support the following   Name of club activity.
The motion was made by __________ and seconded by __________ Ayes ___ Nays ___ Abstentions ___"

RICO grant funding amounts are limited per semester and is awarded on a first applied and qualified basis.

a. Fall Grant Submittal Deadline: Friday of the last week of November
b. Spring Grant Submittal Deadline: Friday of the last week of April

Include with your grant proposal a list of current members that will directly benefit from the activity.
If an ASUH-KCC grant was received in a prior semester, please submit a final expense report and copies of original receipts of the last activity. Failure to submit a final expense report with receipts will void grant request
Please turn in all requested forms to Room 210 at the Campus Center.
You will be notified within 10 business days by email if your grant was accepted and routed to the UH Procurement Office or if your application requires additions or changes.
Allow 5-7 weeks for a grant to be processed by the UH Procurement Office.
Request Additional Club Funds
To Request Additional Club funds from ASUH KCC Student government, please complete the RICO Funding Proposal Form and present your request to Student Government in person during the Student Government meetings. To be put on the meeting agenda, please contact John Constantino at johncons@hawaii.edu. You must be a current student club member to apply.
RICOs may submit a grant request application to student government. The ASUH-KCC SG Senate represents all KCC students and its decision to approve funds is determined by many factors. These include the significance of the program, project or activity; the probability of success; the benefit to all students; the availability of funds and, the appropriateness of ASUH-KCC SG funding the request. Programs with inherent cultural, social, economic impact and those that strive to manifest the Senate's goals are most likely to receive funding. Senate guidelines for RICO funding change from year to year so contact the ASUH-KCC SG Vice President in charge of RICOs for current information. Applications for funding are available at the Campus Center, Student Life Office, Rm. 210 or contact the Vice President at 245-8338 for more information about ways ASUH-KCC SG can support the RICO group.
OUR CLUBS

ANIME AND MANGA CLUB
BUSINESS AND YOUNG ENTREPRENEURS CLUB
CAREER CLUB
CHI ALPHA CHRISTIAN FELLOWSHIP CLUB
CLUB MATH
CHORAL MUSIC CLUB
ELECTRONICS CLUB
HEALTH OCCUPATIONS STUDENTS OF AMERICA (HOSA)
INTERNATIONAL STUDENT CLUB
KAUA`I ACCOUNTING CLUB
KAUA`I AUTOMOTIVE TECHNOLOGY CLUB
KAUA`I GAMERS
KCC CATHOLIC CAMPUS MINISTRY
KCC CULINARY ARTS CLUB
KCC HISTORY CLUB
KCC THEATER CLUB (recreational)
KCC SUSTAINABILITY CLUB
KCC NURSING CLUB
KU PONO I HO`OKAHI HAWAI`I
LA TERTULIA ESPANOLA 
MEDICAL ASSISTING CLUB
NA LIKO ALOHA `O KA HUI HULA
NIHONGO KURABU CLUB
PAMANTASAN CLUB
PHI THETA KAPPA – CHAPTER ALPHA PI XI
ROBOTICS CLUB
SPORTS CLUB
SUSTAINABILITY CLUB
STUDENT VETERANS OF AMERICA KCC
WAI`ALE`ALE CLUB

Club Forms (PDF)