Welcome Veterans to Kaua'i Community College!
Kaua'i CC has joined the 1,890 colleges and universities that have committed to supporting veterans as they pursue their education and employment goals.
A voluntary initiative through the Departments of Education, Veterans Affairs, and Defense. Ref: President's Executive Order
The Kaua'i Community College Veterans' Support Program provides Kaua'i CC Student Veterans with referrals & assistance for services, on and off campus, geared toward their health, wellness, and college success.  Within the Program, the VSC-Veterans' Support Center facility, on campus provides a supportive atmosphere where Veterans can discuss issues ranging from benefits, educational challenges, and shared experiences.  In-turn, the Center provides Computer workstations, WiFi connectivity, and study areas staffed by Veteran Student Workers.
The Veteran Student Workers also attend and participate in the local Veteran's Council and have recently provided additional new Legions on Kaua'i for post 911 Veterans. 
Mission Statement of the Veterans' Support Center
To provide Student Veterans with a comfortable atmosphere equipped with all the tools necessary to aid them in their collegiate pursuits, and provide experienced knowledgeable and friendly staff to all who enter as the link between them and other resources needed to make the most of their scholastic endeavors.
"Where we Gather Together,
We also Learn Together"
(Foster Brown Jr. III -KCC Student USAF Veteran)
Student Veterans are available to assist you with several initial steps to enroll at Kauai CC:
    Completing your enrollment application
    Ensuring you have the proper immunization documentation
    Accessing your Military training transcripts
    Making appointments with admissions and counseling
    Applying for GI Bill Benefits
CALL US!   808-245-8391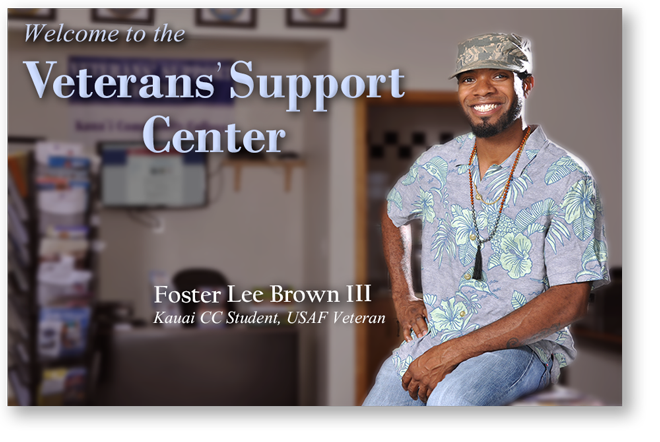 ---
This program was funded by a grant awarded by the US Department of Labor. This product was created by the grantee and does not necessarily reflect the official position of the US Department of Labor. The U.S. Department of Labor makes no guarantees, warranties or assurances of any kind express or implied, with respect to such information including any information on linked sites and including, but not limited to, accuracy of the information or its completeness, timeliness, usefulness, adequacy, continued availability or ownership. Funding does not pay for student costs to participate.