Kaua'i Community College, as part of the University of Hawai'i system, is committed to building an inclusive community that supports and advocates for all students. All members of our campus community deserve a work and educational environment free from harassment or bullying based on their sexual orientation, gender identity, or expression. We welcome people of all gender identities to our campus: lesbian, gay, bisexual, transgender, māhū, and queer.
As a student or employee of the University of Hawai'i, you have rights and responsibilities, including protections based on sexual orientation, gender identity, and gender expression. Title IX of the Education Amendments Act of 1972 protects people from discrimination based on sex in education programs or activities that receive federal financial assistance. It also protects people against gender-based harassment, including harassment based on actual or perceived sex, gender, sexual orientation, gender identity, or gender expression.
Kaua`i Community College is committed to protecting students' and employees' Title IX rights and encourages anyone who needs help or has experienced sex discrimination, sexual misconduct, and/or gender-based violence to talk to someone, in order to get support and so the College can respond appropriately. There are many resources and reporting options available to students and employees, both in Kaua`i Community College and in the community. Any of these resources can work independently or in a coordinated response plan. Learn more about your options on the Title IX--Get Help and Support page, or in the Title IX Resource Guide. Students and employees can contact these Confidential Resources for confidential support or advocacy. If you want to report an incident involving sex discrimination, including sexual harassment or sexual violence, learn of a situation that you feel may warrant a College investigation, or have questions about Kaua`i Community College or the University of Hawai'i's policies and procedures, you can contact the Title IX Coordinator (Isaiah Ka`auwai, 808-245-8260 or ikaauwai@hawaii.edu) or a Deputy Coordinator. The Title IX Coordinator and Deputy Coordinators are listed on the College's Title IX webpage (https://www.kauai.hawaii.edu/title-ix).
Events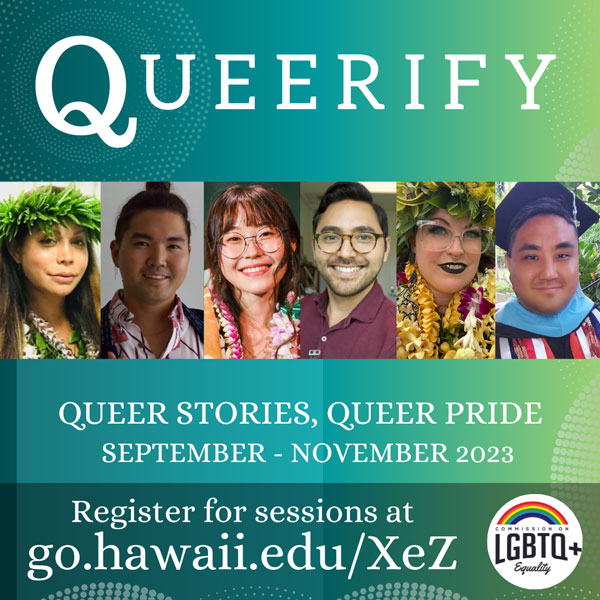 You are warmly invited to join us for QUEERIFY, a lecture and panel series which will run from September through November 2023.  Registration for sessions is now open: http://go.hawaii.edu/XeZ.
Sessions are open to all, including faculty, staff, students, and the community.  Please share widely with your networks.
We hope you will be able to join us!
Click on the tab to expand to read
---