| | | |
| --- | --- | --- |
| | "Education Delivered Through Distance Education" | |
Grant Budget: $2,173,975
Grant Period: 2019-2024
Grant type: Part A, Collaborative grant
What is Keleka'a Ho'ona'auao
In 2019 the University of Hawai'i West O'ahu and Kauaʻi Community College initiated this five year collaborative grant that will renovate distance learning facilities and establish degree pathways for Kauaʻi residents to stay on island while earning a bachelor's degree.
Expand and Enhance 21st Century Learning Environments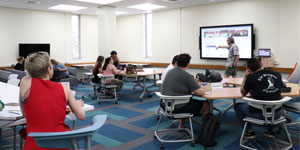 We are implementing major renovations and technological upgrades to three spaces located at Kaua'i CC including creation of a new state-of-the art distance education "smart classroom"/group area that will serve the expanding distance education population on the island. These investments will enable the Kaua'i CC to offer an expanded number of programs through an online medium.
New Distance Ed Baccalaureate Options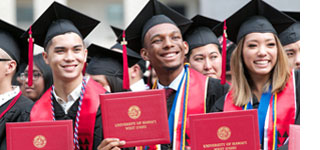 We are creating and strengthening distance education pathways for students attending KauCC and UHWO. During the first years of the grant new articulation agreements and course pathways are under development so that students can earn an AA/BA (Native Hawaiian studies), an AS/BA (business), and an AAT/B.Ed. degrees (secondary education) from Kaua'i through UHWO.
Please contact Anuhea Piliere for more information at a.piliere@hawaii.edu.
Culture based student supports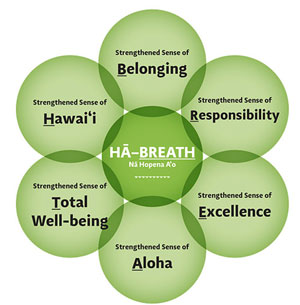 When keeping the whole student in mind, our student support system is centered around the HĀ: BREATH framework:
In our initial survey of Distance Education students on Kauaʻi in 2020, we found areas for growth as well as accomplishment. Overall, students felt satisfied with academic support and advising but said they could use more resources involving scholarships, financial aid and internships. With that in mind, we have expanded these types of supports for DE students and are also creating new opportunities to reach and help them. Click here for Guide to Graduation (pdf)
As of Fall 2021 these are the various ways we have helped UH West Oʻahu Distance education students on Kauaʻi:
Cohort Approach
Business Administration  Bi-weekly Zoom Check-ins
Weekly academic support in the OSC Conference Room
Pre- Advising Support
Referrals from Kauaʻi Community College Counselors
Waiʻaleʻale Project
University Center Educational Specialist
Virtual Check-ins via email or Zoom
Creating educational resources
Monthly Newsletter emails
HA Framework Videos
Financial Aid Videos
Collaborating with UH West Oʻahu
Go The Distance Series
Fall Virtual Week
Funk of Fall
Virtual New Student Orientation
Noeʻau Center/Library
Keleka'a Ho'ona'auao Year 2 Annual Report
Please contact Anuhea Piliere for more information at a.piliere@hawaii.edu.
Please reach out to our grant staff with any questions. We look forward to hearing from you!
Valerie Barko, Ph.D.
Principal Investigator
Kauai CC Director of Institutional Effectiveness and University Center
Accreditation Liaison Officer
Email: vabarko@hawaii.edu
Telephone: 808.245.8336
 
Gloria Y. Niles Ph.D.
Co-Principal Investigator
Director of Distance Education
& Coordinator, Office of Professional Development and Academic Support (OPDAS)
University of Hawai'i–West O'ahu
Email: gniles@hawaii.edu
Telephone: 808-689-2497
 
Andrea Erichsen, M.S.
Title III Grants Program at Kauai CC
Email: andrea.erichsen@hawaii.edu
Telephone: (808) 245-8378
 
Anuhea Piliere, MEd 
UHWO Distance Education Academic Support at Kauai CC
Email: a.piliere@hawaii.edu
Telephone: 808-245-8374
Louise Funai
Project Administrative Support
University of Hawaii - West O'ahu
email: lfunai3@hawaii.edu
Mariah Opalek
Title III Grant Support Assistant at Kaua'i CC
Email: mopalek@hawaii.edu
Telephone: (808) 245-8395