Hanai Mau Loa, to "Forever Sustain"
Providing campus-direct access to holistic support & outreach services that will increase the perpetual self-sufficiency and academic success of every Kauai Community College student. 
Ho'ai Food and Goods Pantry
Located at the Library(LRC)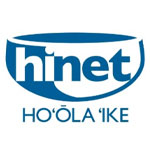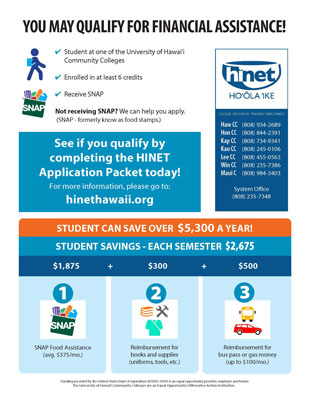 Students in the HINET program may substitute their education and employment training for the U.S. Department of Agriculture's 20-hour weekly work requirement. This allows them to maintain their SNAP benefits while pursuing a college education. 
SNAP Benefit Assistance & Hawaii Nutrition Employment and Training Program:
Book reimbursements
Bus pass/gas mileage reimbursements
Uniform assistance
Service learning opportunities
Employment advising
Food assistance
Wifi reimbursements
HINET Interest form please click here
To contact the Human Needs and HINET Program Office, please call 808-245-0106, email kcchinet@hawaii.edu, or stop by the Learning Resource Center's Library Rm. 105 (back right side of the first floor). Click here to schedule a STAR Balance appointment with Berna Souza. 
Human Needs Support & Outreach Services
Our goal is to make the food security and human needs of our Kauai Community College students a priority through consistent and available success plans and support services which will increase their perpetual self-sufficiency and academic success.

We know that the pandemic has created many unexpected hardships for our students that continue to impact their lives. Our office is here to provide support, guidance, and/or holistic case management to meet you where you are in your personal and academic journey. We have on-campus programs in place to assist with your human needs. If you'd like to learn more or set up an appointment to talk story, click the link above or stop by! Please don't hesitate to ask how our programs can benefit you!
'O ka ikaika o ka mana'o me ke kino. (Be strong in mind and body)