Kauai Veterans Council $500 Essay Scholarship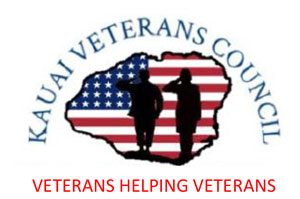 Amount: $500
Opening Date: February 1st, 2022
Deadline: March 1st, 2022
Who's eligible to apply: Any student veteran registered for Spring 2022 classes at Kauai Community College
Description: The intent of the scholarship is to help the student veteran defray the high cost of living on Kauai.
Essay topic: "What does Veterans Day and Memorial Day Mean to Me"
What to complete: No more than one single spaced typed page essay written from a student veteran point of view on the essay topic "What does Veterans Day and Memorial Day Mean to Me".
Where to submit essay: By mail to: Kauai Veterans Council, 3215 Kauai Memorial Highway, Lihue, HI 96766 or emailed to kauaiveteranscouncil@gmail.com.
When will the winner be announced: Winner will be presented the scholarship check at the March 16, 2022 Kauai Veterans Council meeting.
*Essays received after March 1st, 2022 deadline will not be considered
HOURS OF OPERATION
Spring 2022
Monday: 8:00am-6:00pm
Tuesday: 8:00am-6:00pm
Wednesday: 8:00am-6:00pm
Thursday: 8:00am-6:00pm
Friday:  8:00am-1:00pm
At Kaua'i CC, we have experienced Student Veterans who can assist you at the very beginning of your search for a college, or while you are in the process of enrolling, and throughout your college career.
The Center is located on the Kaua'i-CC NW campus between the Technology and Welding buildings.
Kaua`i Community College
3-1901 Kaumuali`i Hwy.
Lihu`e, HI 96766

Phone: 808-245-8391
Email: veterans@hawaii.edu

 
Center Amenities

Computers
Printer/Scanner/Copier
Support by Student Veterans - for Student Veterans
Wifi
Kitchen Facilities
Relaxation Area
Local and National Printed Materials
Air Conditioned
---
This program was funded by a grant awarded by the US Department of Labor. This product was created by the grantee and does not necessarily reflect the official position of the US Department of Labor. The U.S. Department of Labor makes no guarantees, warranties or assurances of any kind express or implied, with respect to such information including any information on linked sites and including, but not limited to, accuracy of the information or its completeness, timeliness, usefulness, adequacy, continued availability or ownership. Funding does not pay for student costs to participate.