Our team recognizes that we all need emotional support or an extra hand at some point in our lives and we are dedicated to eliminating the negative stigmas surrounding mental health. You can help us address these issues by participating in our outreach events or support groups and helping our campus be a safe, inclusive place where everyone can thrive.
Running a group or class?? We would be happy to schedule informational and interactive presentations. Call 245-8346 or email us at careKCC@hawaii.edu for more information. 
For appointments and other services: Click Here for free, anonymous, and confidential Mental Health Support screening.
Please click on the tabs below to expand
The Lōkahi Wheel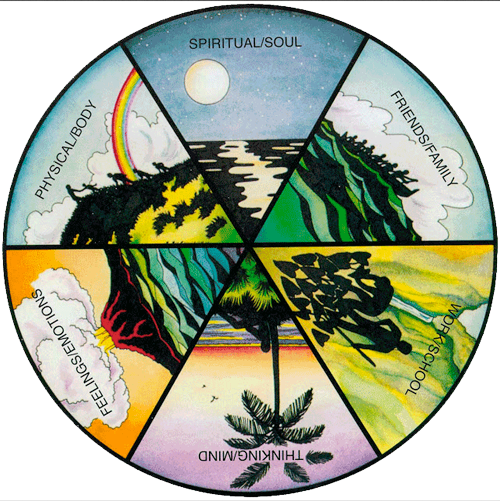 The Lōkahi Wheel reminds us of the different areas of wellness and how to balance our self-care and our lives. When one portion of the wheel is neglected or in conflict, we may feel it in other areas as well. Take the time to make sure you are caring for yourself in all of these ways.  
Need other kinds of help? Check out some of Community Resources
MENTAL HEALTH EMERGENCY?? If you are feeling suicidal, experiencing a mental health crisis or need help with substance use issues and require immediate assistance call the 24-hr Coordinated Access Resource Entry System (CARES) Line of Hawaii at 1-800-753-6879 or go to your nearest Emergency Room. If you require immediate help regarding domestic violence or sexual assault, please call the YWCA 24-hour line at 808-245-6362