Congratulations, Erin, Justin and PTK students!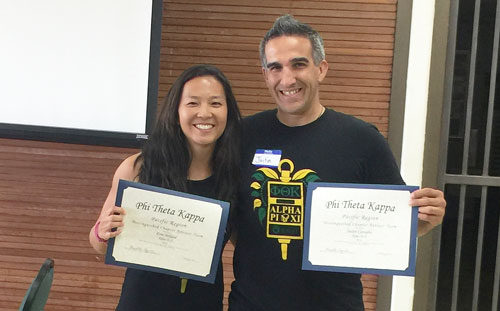 March 2018, Justin Carvalho and Erin Millard were able to bring 7 students to the semi-annual Phi Theta Kappa Regional Conference. This year it was held at Leeward Community College. Students and advisors took an excursion to visit the U.S.S. Arizona and reflect upon our hallmarks for the future Honors in Action projects. 
 
In order to be invited to join Phi Theta Kappa, students must have at least a 3.5 cumulative GPA and at least 12 college level credits. Phi Theta Kappa students are doing well academically, and are partaking in opportunities like these in order to gain a well-rounded college experience. 
 
Our chapter (Alpha Pi Xi) got recognized for the following awards:
5 Star Award (Only 3 out of 13 chapters achieved this level)
Distinguished Theme
Honors in Action Project
Distinguished Chapter
Distinguished Chapter Advisor Team (Justin and Erin)
Horizon Award (Erin)