Prevention of Violence, Through Awareness and Understanding
Each of the 10-campuses in the University of Hawai`i system have a PAU group. We (UH Faculty, Staff, Students, and our Community Partners) get together to plan, coordinate and put on events and establish programs to foster discussion about the many forms of violence. By collectively working to end the violence - whether it's at home, at work, in school, or throughout the community - we know that with support and a shared vision, we can create a positive and lasting change. We recognize that each person matters, has a voice and say, and that there are many possibilities, resources and options to make things better.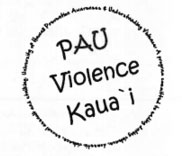 One way is to GET INFORMED and Participate in our Activities and Events. If you're a Kaua`i CC Student, Faculty or Staff member, another option is to GET INVOLVED and Become an Active Member of PAU.
To keep updated on what's happening with PAU-VK, always check this site for current news and updates. 
April Awareness Activities
Monday 4/1
What: Rotunda Rally, Mayor's Proclamation & Pinwheel Planting 
Where: Lihue Civic Center Rotunda 1pm (Wear Blue!) 
 
Saturday April 6
What: S-T-E-P-S Fair 
Where: Kukui Grove Center Stage 9am to 1:30pm 
Monday April 8
What: Film Screening & Discussion – Shots & Shots II 
Where: Kauai Community College 12:00pm-1:30pm 
Tuesday April 9
What: Pinwheel Garden Planting * 
Where: Emergency Medical Services 3pm 
Thursday April 11
What: Pinwheel Garden Planting * 
Where: Children's Justice Center 9:30am 
Monday April 15
What: Pinwheel Garden Planting * 
Where: Department of Health 3:15pm 
Wed April 17
What: Sexual Assault Awareness &Pinwheel Garden Planting* 
Where: YWCA Women's Center Open House 3pm to 4:30pm 
Friday April 19
What: Sticker Shock Project -Alcohol Awareness 
Where: County of Kauai 4:30pm 
Tuesday April 23
What: Pinwheel Garden Planting * 
Where: Kauai Police Department 3:15pm 
Wednesday April 24
What: Denim Day 
Note:  *Pinwheel Gardens support Child Abuse Prevention 
Domestic Violence Awareness Month
October 8-12
What: Clothesline Project
Where: Display Campus Center
October 17
What: Health & Wellness
Where: Fair One Stop Center
October 17
What:  Annual Candlelight Vigil, which honors victims and survivors of domestic violence and sexual assault in Hawaii.
Where: St. Michael's and all Angels Church
Time: 5:00 pm-7:00 pm
 
Want to join PAU Call Shaunte Sadora at 245-8337 ssadora@hawaii.edu
Have questions?
Contact the Co-Chairs for PAU
Marilyn Hashisaka, 
Co-Chair
Email: hashisak@hawaii.edu
Phone: (808)-245-8314
Shaunte Sadora, 
Co-Chair
Email: ssadora@hawaii.edu
Phone: (808)-245-8337
Cheryl Stiglmeier,
Co-Chair
Email: cstig@hawaii.edu
Phone: (808)-245-8351
Want to partner with PAU Violence Kaua'i? Complete the form.
Upcoming PAU Meetings
Days:  First Thursday of the Month 
Time:  12n - 1pm 
Location:  (usually) One Stop Center room 204