Prevention of Violence, Through Awareness and Understanding
Each of the 10-campuses in the University of Hawai`i system have a PAU group. We (UH Faculty, Staff, Students, and our Community Partners) get together to plan, coordinate and put on events and establish programs to foster discussion about the many forms of violence. By collectively working to end the violence - whether it's at home, at work, in school, or throughout the community - we know that with support and a shared vision, we can create a positive and lasting change. We recognize that each person matters, has a voice and say, and that there are many possibilities, resources and options to make things better.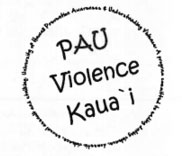 One way is to GET INFORMED and Participate in our Activities and Events. If you're a Kaua`i CC Student, Faculty or Staff member, another option is to GET INVOLVED and Become an Active Member of PAU.
Check out our Podcasts!
Want to join PAU?
Call Shaunte Sadora at 808-245-8314 ssadora@hawaii.edu
Please click on the tab below to expand